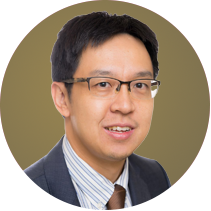 I graduated with a medical degree from the University of Cambridge, UK in 1998, and trained to be an eye surgeon  in London, UK. I am recognised as an Ophthalmologist (Eye Specialist) in the UK, Australia and Malaysia. After completing my specialist training, I decided to spend 2 more years of training in Cheltenham, UK followed by the Royal Perth Hospital, Western Australia, to sub-specialise as a retinal surgeon. After almost 18 years abroad studying and working in the UK and Australia, I returned to Malaysia in 2009 to practice as an Associate Professor of Ophthalmology and Consultant Ophthalmologist and Retinal Surgeon at the University of Malaya in Kuala Lumpur. I am now in full time private practice at Sunway Medical Centre.
I Love Being a Retina Eye Specialist
I love my job as an Eye Specialist. There is nothing else I would rather do and I feel very privileged to work in a specialty that combines interesting aspects of medicine and surgery together. I particularly enjoy eye micro-surgery and helping my patients to see again. I also feel it is important to educate the public about eye conditions as it will help understand why they are losing sight and how we can work together to help improve their sight.
My Retina Web Site Educates
I started this blog to put my thoughts about current issues in ophthalmology and to educate the public about common eye diseases like cataract, retinal detachment, macular degeneration, diabetic retinopathy and retinal vein occlusion.
I am also passionate about people living a healthy lifestyle in order to maintain their health. I believe that your diet can affect your eyesight and I wrote an award winning book  "Food for the eyes". This book is written together with my wife, Chui-Hoong, who is a trained dietitian.
We have put together more than 50 recipes that are filled with nutrients that are good for your eyesight and may help prevent diseases like macular degeneration. I have also written a chapter on common eye conditions in this book.
I Have a Great Family
I enjoy family life with my 2 daughters and my newborn son.  I am constantly amazed at how fast kids learn things. We live in Petaling Jaya, which is just next to Kuala Lumpur, the capital of Malaysia. When I have time, I try to keep up with my buddies mountain-biking off-road, playing tennis, badminton, swimming or rowing. I make it a point of playing tennis once a week and am encouraging my kids to take it up as it is a very difficult sport to learn to play well. My serve still needs improvement!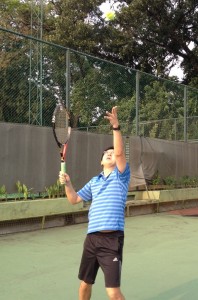 Here is a link to my
complete curriculum vitae
.
More details about me
Qualifications: MA MB BChir (Cambridge 1998) MRCOphth (UK, 2003) FRCOphth (UK, 2007) FRANZCO (Aust, 2009) CCT (UK, 2007) AM (Mal, 2009)
Registered to practice as a specialist eye doctor in the UK (GMC No: 4583716), Australia, and , Malaysia (MMC No: 47138).
Previous academic appointment: Associate Professor, University of Malaya (2009-2012)
Examiner for undergraduate and postgraduate exams in Ophthalmology in Malaysia
External examiner for the Royal College of Ophthalmologists, UK.
Honorary Secretary (2013-2017) of the Malaysian Society of Ophthalmology
President (2017- present) of the Malaysian Society of Ophthalmology
Congress President of the 11th Asia Pacific Vitreo Retina Society Congress (APVRS)
Council Member of the Asia Pacific Vitreo Retina Society (APVRS)
Committee Member of the credentialing board of the National Specialist Register for Ophthalmology, Malaysia (2011-2013).
Invited scientific reviewer for international journals eg. Ophthalmology, RETINA, Clinical and Experimental Ophthalmology, Asian Journal of Ophthalmology, Eye.
Published in excess of 40 scientific peer-reviewed papers, 2 book chapters on cataract surgery , and, an award winning AMD awareness book "Food For Your Eyes".
Invited speaker to more that 5000 people at TEDx KL 2015, Putra Stadium, Bukit Jalil, Malaysia.
Highly experienced in cataract and retina surgery and trained numerous junior eye surgeons in UK, Australia and Malaysia
Won multiple scholarships and prizes at undergraduate and postgraduate level including British High Commissioner's Award (1993-1996), Cambridge Commonwealth Trust Award (1993-1996), Desmond Hawkins prize for best elective medical student project (1998), West London Ophthalmic Research Prize (2002), Royal College of Ophthalmologists Travel Scholarship (2008).
Organiser of first national level Retinal Diseases Awareness Week to raise public awareness of AMD and diabetic retinopathy
Languages spoken: English, Bahasa Indonesia, Mandarin, Cantonese, Hokkien