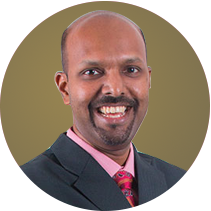 Dr. Manoharan Shunmugam is a Consultant Ophthalmologist, Adult & Paediatric Vitreoretinal (VR) surgeon who trained in the UK and returned to Malaysia in 2013. He has a keen interest in research with publications in a wide-range of high-impact journals and is on the panel of reviewers for a few of these journals. He is also a contributing author of 2 book chapters in vitreoretinal reference textbooks and played a key role in developing 'Morphision', an electronic application which can semi-quantitatively define and monitor metamorphopsia.
Training and work experience in Ophthalmology
Dr. Mano graduated from the University of Dundee, Scotland and subsequently went on to undertake his Ophthalmic Specialist Training at Aberdeen Royal Infirmary, Scotland. He then transferred to London & completed a two-year subspecialty Fellowship in VR Surgery at St. Thomas' Hospital, London.  He stayed on as a locum Consultant Ophthalmologist until he returned to Malaysia. En route, he further honed his skills with a Paediatric VR fellowship at L.V. Prasad Eye Institute, Hyderabad, India – making him one of the few Paediatric VR surgeons serving the Asia-Pacific region.
In Malaysia, he worked at the Tun Hussein Onn National Eye Hospital for 2 years before joining Pantai Hospital Kuala Lumpur and has also been serving at Hospital Kuala Lumpur (HKL) since 2014. His professional memberships include the Malaysian Society of Ophthalmology (MSO – Honorary Secretary) & the Asia-Pacific Vitreoretinal Society (APVRS – Member). Dr. Mano has given talks and hosted panels of discussions amongst experts in his field of interest, both in national and international circles. He continues to be invited to key opinion meetings to provide his expertise and share his knowledge and experience with peers in the field.
It has been Dr. Mano's aim to set-up an ophthalmic service that would enable him to provide affordable care to patients in a modern and relaxed environment. This was realised at the start of 2020 when he collaborated with several fellow Ophthalmologists and set-up OasisEye Specialists in Nexus Bangsar South. He currently divides his working hours between OasisEye Specialists and Pantai Hospital Kuala Lumpur, while continuing with his honorary position in Hospital Kuala Lumpur.
Area of interest within Ophthalmology
Procedure Focus

Cataract Surgery
Vitrectomies & Combined Phaco-vitrectomies
Diabetic Retinal Delaminations
Paediatric Vitreo-retinal Surgery
Macular Translocations
Intravitreal Drug Therapy

Clinical Interest

Retinal Detachments
Diabetic Retinopathy & Screening
Age-Related Macular Degeneration (ARMD)
Retinopathy of Prematurity
Hereditary Retinal Disorders
What I do in my free time…
At heart, Dr. Mano is very much a family-man who enjoys spending time with his wife and three vibrant daughters over a good movie or game of Scrabble. He enjoys swimming, which he tries to keep up with on a weekly basis. Having been involved in charitable activities since childhood, Dr. Mano continues to serve at the Sivasanta Charity Clinic, which provides free healthcare to all those seeking treatment here. The clinic sustains itself purely through donations from well-wishers, patients and the public. He is also an enthusiast of the arts, and is a long-time supporter of The Temple of Fine Arts Malaysia.