Dr. Wong Hon Seng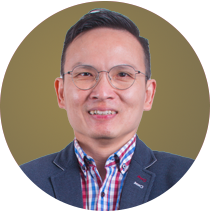 Dr. Wong Hon Seng is a consultant ophthalmic surgeon. Subspecialty in medical retinal diseases and intraocular inflammatory diseases/uveitis. He graduated with Medical Doctor (MD) from the National University of Malaysia in 2001. He completed ophthalmology specialist training and was conferred Master of Surgery (Ophthalmology) at the National University of Malaysia (UKM), in 2009, followed by double subspecialty trainings in Medical retina and the extinguish Professorial Fellowship in Uveitis at Sydney Eye Hospital, Australia.
Upon returning from Australia, Dr. Wong served as senior Lecturer at the ophthalmology department of Medical faculty of National University of Malaysia. He also led the Medical Retina and Uveitis service at UKM Medical Centre, Kuala Lumpur. There, he established the Electrophysiology service and was actively involved in the Masters in Ophthalmology Specialist Training Program, mentoring and tutoring specialists and doctors. He also teaches students of Medical undergraduate and Optometry graduates of National University of Malaysia.
As an avid medical researcher, he has published numerous scientific articles in international medical journals and has actively involves in lectures and presentations at local and international ophthalmic meetings. He was the committee member of the Malaysian Society of Ophthalmology of the term 2015-2017.
" I am blessed with the passion and abilities to help my patients in recovering crystal clear vision. The smile on their face is my reward in striving forward in providing the best care for them."
Dr. Wong is a believer in healthy lifestyle. Outside of work, he is an avid fitness junky, and enjoys various fitness programs e.g. rock climbing, yoga, pilates and pole fitness.
Dr.Wong's motto in life is "If it's to be, it's up to me". He is involved in charity works, and has a special spot for underprivileged children. Dr. Wong also volunteered in interpersonal training programs for young adults.
He is a die-hard Chinese martial art novels fanboy, and idolized the writing of the great author, Jin Yong.